Discover more from Creative Block
a weekly newsletter that gives you a glimpse into my life, designs, creativity and music. Welcome to the Block!
Over 3,000 subscribers
---
Creative Block is a weekly newsletter that gives you a glimpse into my life, creativity, design, and music. It's like a little pick-me-up that you get delivered straight to your inbox each week.
---
---
Dear readers,
I've been absent for a while, and to be completely transparent, I believe it was necessary. It seemed like everything that could go wrong started to unravel in my world. Our one of our studios had a persistent leak on and off that lasted nearly a week, all while juggling full-day bookings at the studio back to back (I was pretty much mopping after every booking). My wife's wasn't feeling to well and hurt her knee, and I had to step up and handle the household chores. Clients who had expressed interest in hiring me (and agreed to my pricing) suddenly disappeared. At one point, I even contemplated switching gears and pursuing full time design jobs. The stress was taking a toll on me emotionally and mentally. I had to listen to the signals from my body and mind; I just wasn't in the right state to write or create anything. I simply wanted to cocoon myself in bed 24/7. I can't say for sure if it was depression, but life felt incredibly heavy during these past few weeks. My to-do list remained perpetually incomplete, and I began to feel like I was falling behind. I stopped waking up early and started going to bed late to catch up on all my to-do list (which remained incomplete). I was being especially hard on myself. But I knew I had in this stressful season, I had to fight for joy.
I've noticed that I tend to get even more depressed during the fall than usual. My therapist mentioned this a few months back – that every fall, I come in feeling heavy and sad about life, even when everything around me is going well. This season feels heavier, though; I can't quite put my finger on it. It might be the added responsibility that comes with owning a photography studio or how the economy has been affecting freelance creatives.
There are too many people pretending to be happy or have the "perfect life" on social media and I'm here to let you know "You're not crazy". Life is tough right now. The world is hurting. I've had to fight for the joy and I'm sure you have to.
Here are some ways I've been fighting for joy:
1. Designing my dream Basketball
I took this time to do things that make me happy. I've been dreaming of designing my own basketball for three years, and it finally arrived. I can't wait to share it with you all. Seeing those six basketball samples in my office filled me with joy, even in the midst of a stressful week. I spent some quality time designing the packaging for those basketballs, and let me tell you, it's going to be amazing. I'm investing my heart and soul into this personal project, and regardless of the outcome, I'm just grateful I had the chance to do it. (A big shout-out to ASH, founder of UNWRP, for being an amazing partner in this – she helped me find the perfect manufacturer, and this whole process has been a blessing.) I also designed a scarf and wrapping paper (using the same design on the basketball) which will come out in November. (Basketball should be coming out this month.. When the NBA season starts)
2. Workshop at our Studio
We hosted a workshop at our studio space, and it was a resounding success. It was a tremendous amount of work, especially since my wife was out of town, and I had to ensure we had all the supplies, prints, and designs in order. Despite some minor studio leaks leading up to the workshop, I chose to focus on the positive. The responses from the participants and the knowledge they gained brought me immense joy. It was a win, even with the challenges we faced. Thank you to ZERB MELLISH for being an amazing instructor.
You can watch the recap video here:
3. Listening to Gospel Songs
Gospel songs have been a significant source of comfort and alignment for me. They serve as a reminder of where my hope truly lies. Even in the midst of stressful times, these songs have helped me regain perspective and strength. There's something profound about listening to music that reiterates who God is and what He has done. Here's an album I've had on replay lately.
Coincidentally on Sunday, our pastor mentioned this bible verse during the sermon and it's going to be my anthem in this season.
"Come to me, all of you who are weary and burdened, and I will give you rest." Matthew 11:28
4. Making a Poster for my wife's Birthday
I found myself doubting my design abilities once more. I had created a poster that I loved so much and felt like I couldn't make anything better. However, I had a brilliant idea to create a poster of my wife for her birthday (Oct 19th) , and it turned out to be one of my best works designs yet and she absolutely loved it. I was already doing some work for adobe, so I pitched the idea to them and they loved it. We recorded the whole process and surprised her. She wants it hung in the house now. This was another way I fought for joy, even when questioning my own abilities. You can watch the video here. (Shout out to aaronlwsn for helping me bring this video to life.)
---
Fighting for joy can look differently for each person, and I encourage you all to find those things that bring you joy. Remember, you're only human; give yourself some grace and take it one day at a time.
When life deals you a tough hand, try to fight back. Gratitude is an excellent starting point. As long as you're alive, there will always be a path to find joy, and sometimes, joy will find you. Regardless of how it happens, keep fighting for it.
*Conversation (Comment below)
What are some ways you've had to fight for joy this year?
---
→Artist to know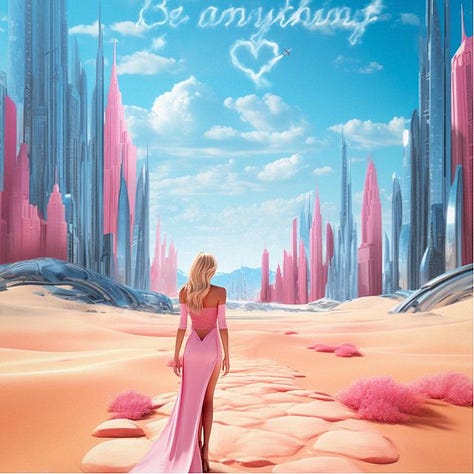 Anna McNaught | An Amazing artist who comes up with these dreamy visuals. She has her palette and it's so inspiring seeing how she's able to bring these ideas she has into life. She makes it look so easy. She also spoke at Adobe MAX this past weekend and it was AMAZING! She did so good! I saw it in person, but you can Watch here (37:10 is where she comes in)

Ethan Tran | I met Ethan at an Adobe event last month. Before meeting him, I was already in love with his videos. His videos are so engaging and it's like a visual newsletter. He hits on topics that most of us creatives deal with. He's inspired me to be more story oriented in my videos. Check out his work! He's an incredible story teller.

New York Penn | I just met Justin last week and man I feel so inspired by his brand and what he's building. His merch ideas are so unique and inspirational. His love for NYC shows in the clothing he makes. You can tell he's really wanting to build a community with his brand and that's something I admire. It isn't always about money it's about building a community and connecting people together through his brand.
→Quote of the week
Thanks for reading Creative Block! Subscribe for free to receive new posts and support my work.
---